Fire King History
Back in the 1940s through the 1950s when the Sky King adventure series was on the radio and television, you may be surprised to know he wasn't the king of the house, that title was reserved for Fire King. The Fire King line of of ovenproof borosilicate low-expansion glassware that is! Fire King was available in grocery stores, hardware stores, and used as premiums by gas stations, appliance manufactures, and had a restaurant line.
Produced by Anchor Hocking of Lancaster, Ohio, Fire King reigned over the premium kingdom and was given away with household staples like flour, sugar, oats, coffee and tea. Tupperware didn't begin until 1946, and the first microwaves for home use weren't on the market until 1967. In the early 1940's and 1950s glass mixing bowls, storage and cookware was an important park of any well equipped kitchen. Glassware which could go from the refrigerator to the oven was the perfect storage solution for make ahead casseroles and reheating leftovers.


From humble beginnings in 1942, Fire King was intended to be inexpensive and used for everyday living. If you are interested in collecting Fire King one of the best places to find it is on Etsy and e-Bay. There are several online information resources for the beginner including an informative synopsis on Wikipedia. Beginner collectors should invest in a current collector's guide to avoid costly mistakes.
Jadeite aka Jade-ite
The Fire King Jade-ite restaurant-ware line is perhaps the most popular line, made famous in part by Martha Stewart, with collectors. However, Anchor Hocking wasn't the first company to produce Jade-ite. Two companies
McKee and Jeanette both had jade-ite lines prior to Anchor Hocking's Fire King line.
So popular in fact that Anchor Hocking re-released Jate-ite in 2000 and there are Jade-ite reproductions on the market. The Anchor Hocking line is clearly marked with a "Fire-King 2000" on the bottom.
The Jade-ite line is so popular in Japan, according to The Antique Trader Magazine, one seller on the Bay translates his listings in Japanese. In Japan jade is popular because it is believed to bring good luck.
Here's a link to a wonderful blog post with excellent photographs of a Jade-ite collection, and table setting:
http://vhcg.blogspot.com/2012/03/collecting-closer-look-at-jadeite.html
it's definetly worth a peek!
Tom and Jerry History
I was intrigued by the Tom and Jerry line which actually wasn't from the cartoon series; but rather taken from a British stage play called Tom and Jerry or Life in London. According to one article the author came up with the idea of adding brandy to eggnog and calling it a 'Tom and Jerry' to promote the play. Tom and Jerry punch bowl sets can be found for sale around the holidays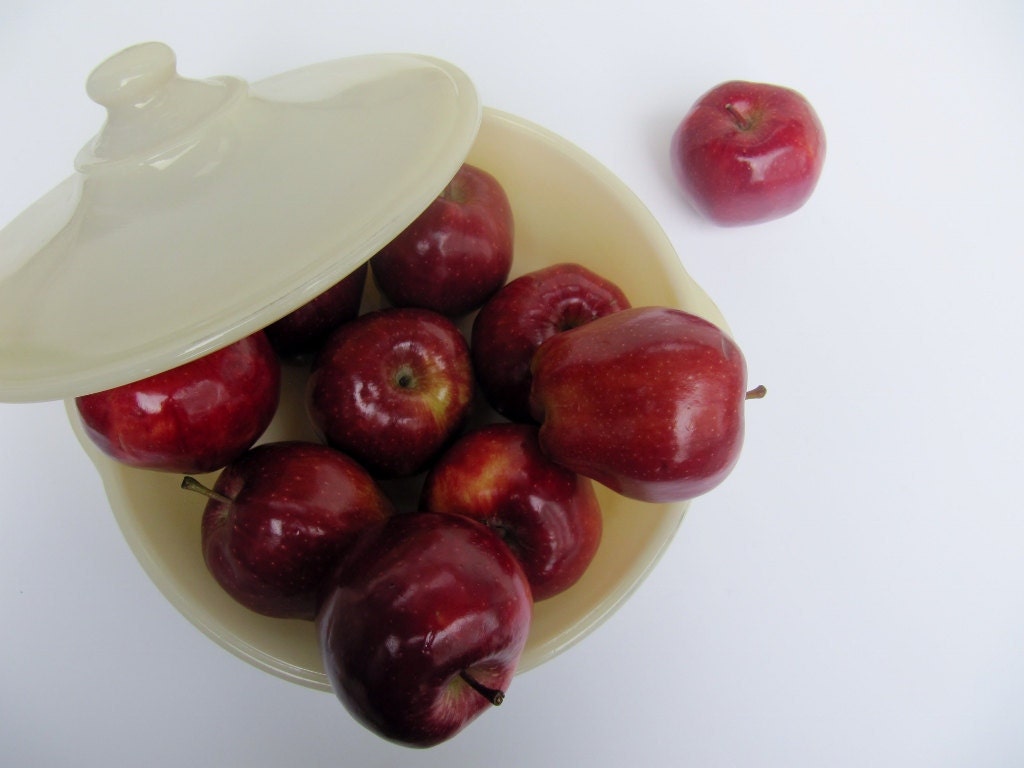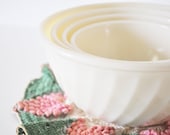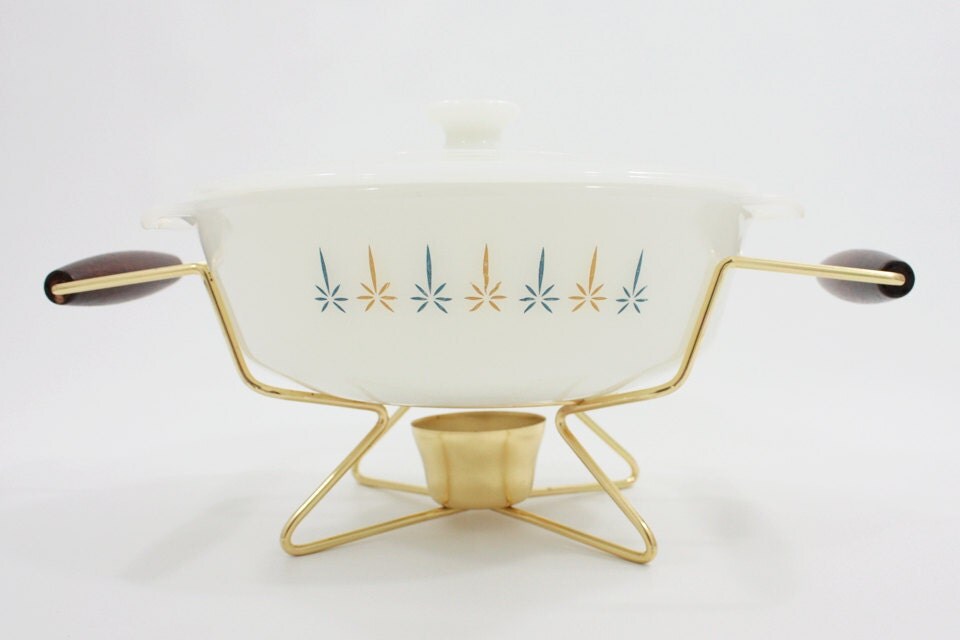 Fire King Ivory Casserole from Modred12 on Etsy
White Fire King Mixing Bowls from thewhitepepper on Etsy
Fire King Casserole and Chafing Dish by TheBeetlesKnees on Etsy
Fire King Patterns
Decal Patterns
Blue Mosaic
Primrose
Wheat
Forget Me Not
Fleurette
Anniversary Rose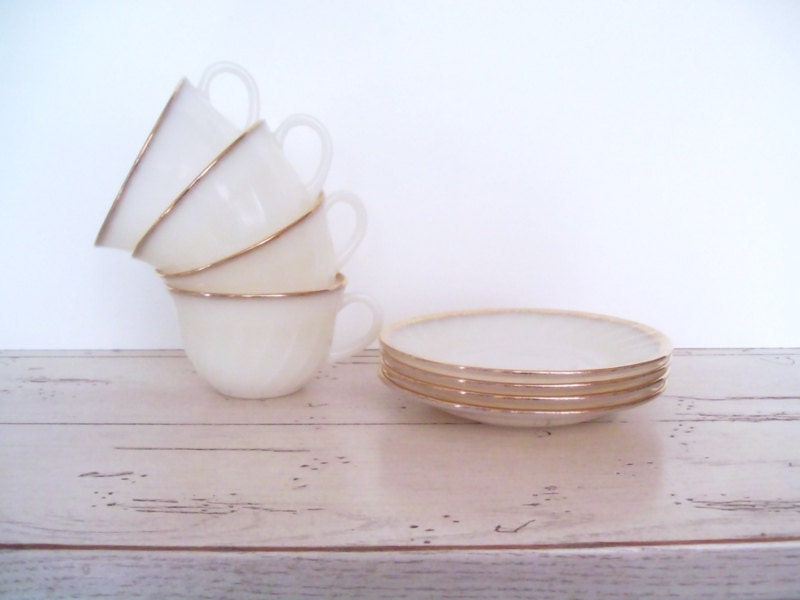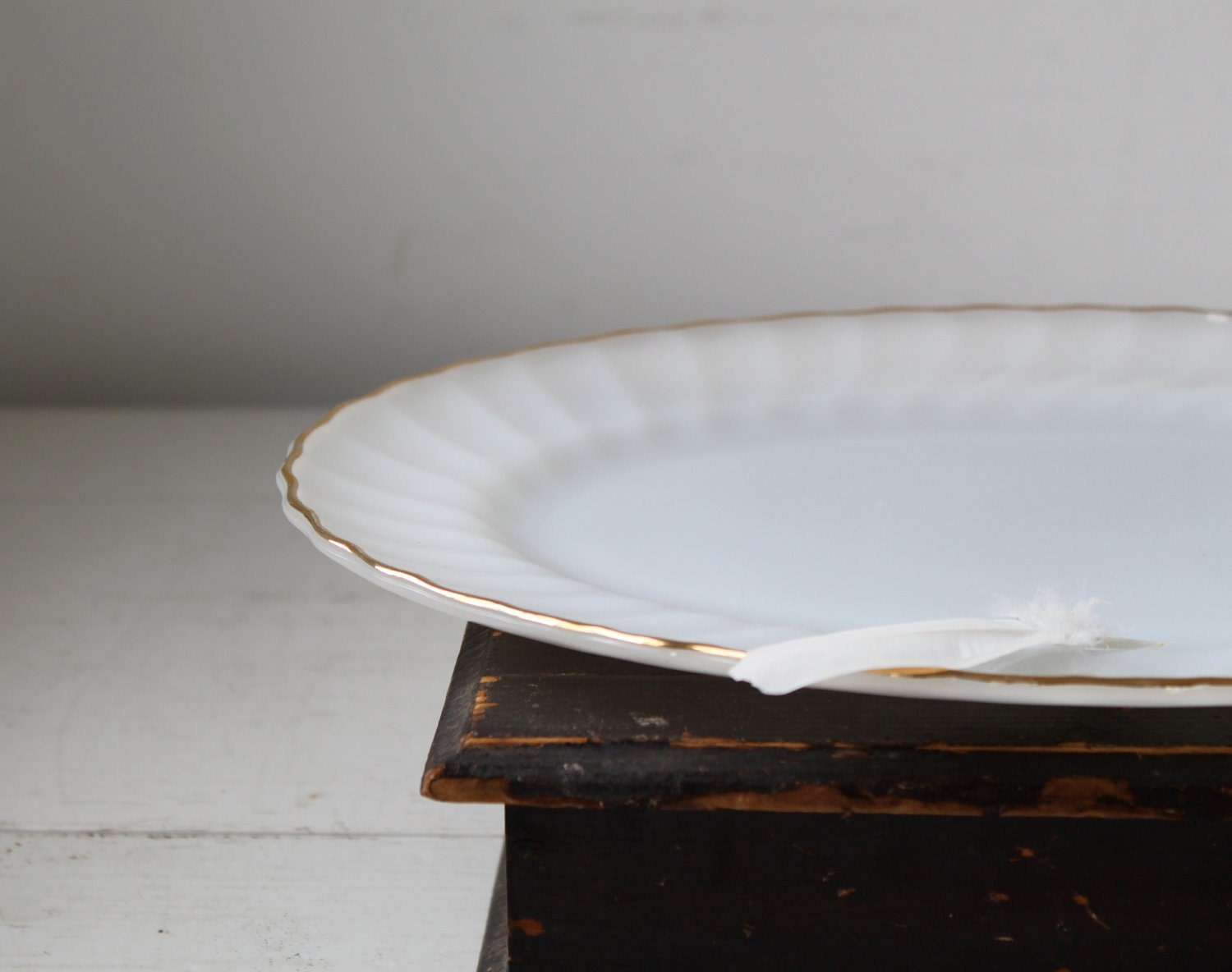 Fire King Milk Cup and Saucer Set by SeasideRoseCreations on Etsy
Fire King Creamer by SeasideRoseCreations on Etsy
Fire King Golden Shell Serving Platter by LuncheonetteVintage on Etsy
Solid Glass Patterns
Swirl/Shell
Sheaves of Wheat
Jane Ray
Alice - Jade-ite premium with Quaker Oatmeal
Fish Scale
Three Bands
Restaurant Ware including Jade-ite
4000 Line - Ruby Red
1700 Line - Plain and with decals
Glass Colors
Rose-ite - creamy pink
Turquoise Blue
Azur-ite - light pale blue
White
Ivory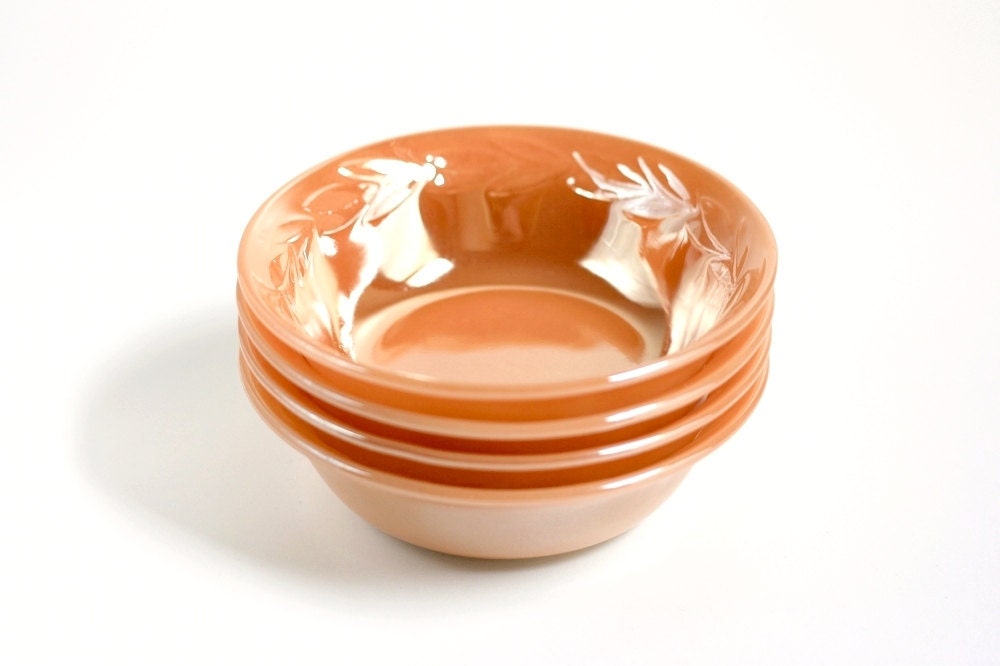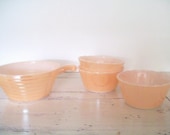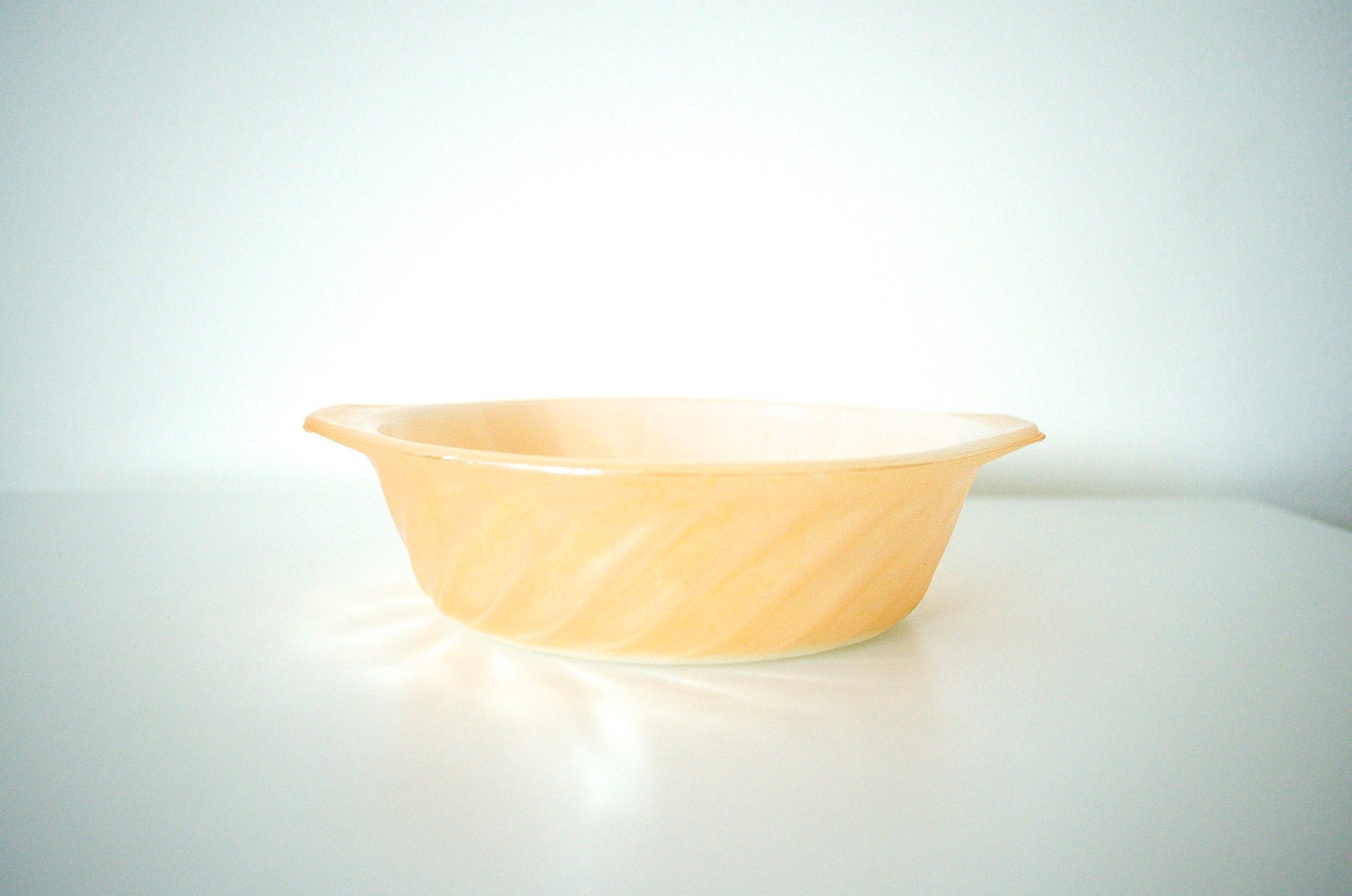 Peach Luster Ware by WiseApple on Etsy
Fire King Peach Luster Ware custard Cups by SeasideRoseCreations on Etsy
Fire King Peach Luster Ware Casserole by SCAVENGENIUS on Etsy
Classified with Fire King
According to Wikipedia, "It can also be a fired-on coating over crystal in shades of pastel green, pastel blue, pastel peach, pastel yellow, primary orange, primary blue, primary yellow and primary green. These fired on colors are part of the pattern Rainbow. Rainbow is not technically Fire-King, but included in the same category with most collector books. There is also a fired on Lustre color finish that comes in several patterns and a few colors, grey, white and the most popular Peach."
Fire King Care
Hand washing your Fire King is recommended as dishwasher soap will micro-etch the glass ruining the finish and remember Fire King was not intended to be used in the micro-wave.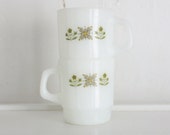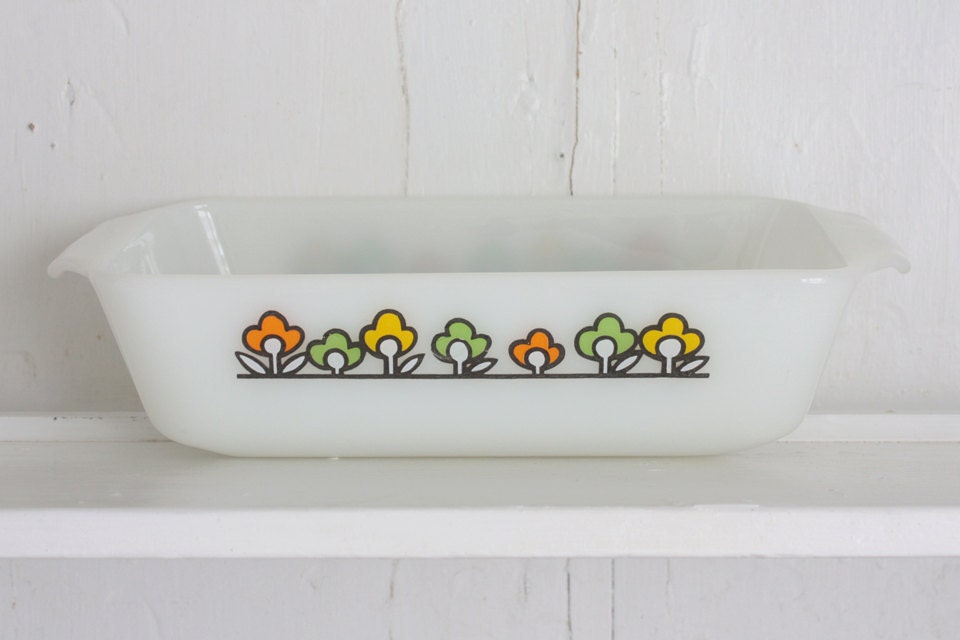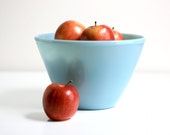 Fire King Pricing
Don't be surprised at some of the prices you see, Fire King is highly collectible now and I've researched some auction prices which are of interest. A Red Baron coffee mug
©

1965 United Features Syndicate, Inc., with a orange roof sold for $310.00 and recently I saw a Jade-ite Swirl Ball Pitcher with bid offerings at over $1,250.00 not sell as the reserve was not met. I read of the rare Jade-ite Ball Pitchers selling for over $2,000.00. Still, most Fire King prices are well below these exceptions and it is a fun and affordable collectible!
Happy Collecting!