The Retrospect on Retro
Retro, something out of style and now revived and in style.

Retro, from mid 1900s, s
o desired, sought and bought by those with a discerning eye for a particular design of the past.
The word is often used for collections or pieces with the striking patterns and effects of Mid-Century modern furnishings: clean, bold, defined, simple lines, often geometric, and the use of plastic and metal. Sleek and minimal, with function. "That clock is so retro!" Sound familiar?
Retro Wall Clocks: The Mid-Century modern Ones
Clocks give the time, but that's not all. For collectors, they are attracted to the fantastic visual appeal. Mid-Century modern wall clocks are known for their design, and sometimes it doesn't matter if it keeps good time. Collections from the mid 1940's to
mid 60's include the sunburst and starburst wall clocks, the asterisks, and atomic era wall pieces. These are dramatic works of art, many are very large, yet simply designed with brass and wood.

Atomic Ball Wall Clock
These retro clocks represent the mid-century Modern styles: new art and materials to denote a break from the past and a search for new forms. The start of time for these Mid-Century clocks is attributed to an American modernist,

George Nelson. He, along with others like Charles and Ray Eames, are considered leaders of the movement.
Nelson's spiked clock hands, and large wood ball numbers were only the beginning for aluminum clock hands, wire rods, space age numbers and bold shapes. The sculptural value combined with the culture of the mid 1900s give these clocks their appeal and placed them in demand in mid century, and today for the retro clock collector! Some of the clock manufacturers of this period were the Howard Miller Clock Company, where George Nelson created many of his famous clocks; Elgin; Westclox; Lux; Seth Thomas; and a British clockmaker Metamec Ltd. Take the time and put a retro collection on your wall. The Mid-Century modern pieces would be a timeless collection. Friends will always say, "That clock is so retro!"



Mid Century Magazine:

It All Racks Up
If there is a retro lover in the house with a Mid-Century clock collection, good chance there are magazine racks to match. Like the clock, Mid-Century form and function are well served to hold the current ipads or the display of vintage clipboards and children's books. Sleek, made of steel, a function statement in design. These small home furnishings are easily moved about and thus used in many ways. A perfect match with other collections. Modern art at its best, and oh so retro.
Most of the items in this collection are on Etsy, and some from the EtsyVintageElite Team. Be retrospective, come see our retro pieces, and other selections of all eras and movements. We have the time, and the magazine racks. Click on most items for more information.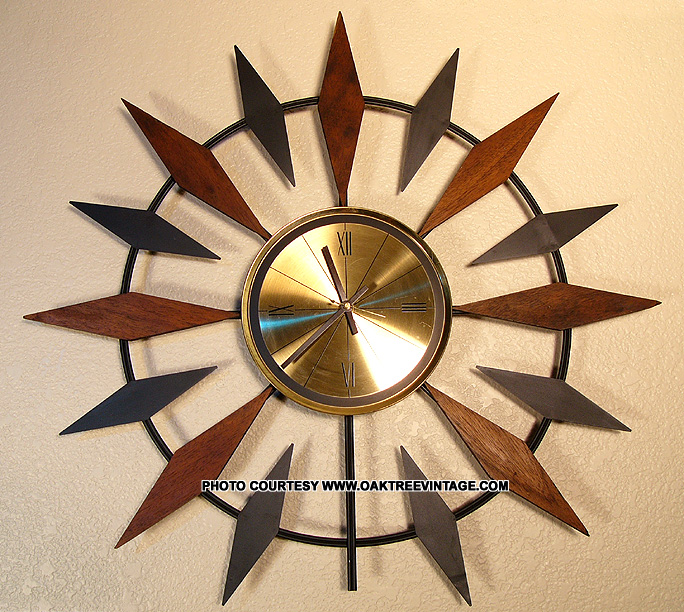 Wood and Black Diamond
Wall Clock
Retro Sunburst Wall Clock